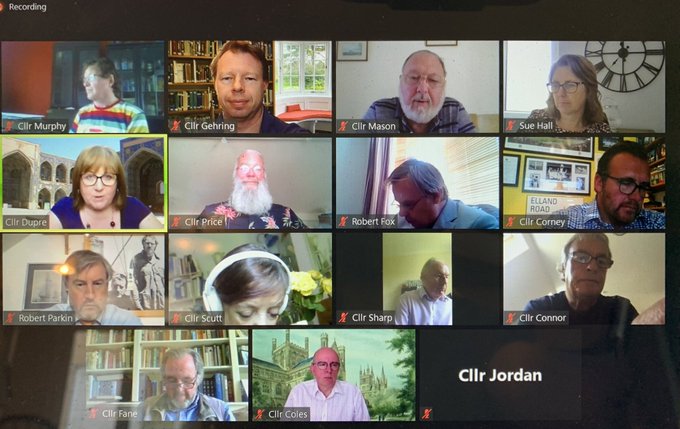 A meeting of the Combined Authority's Overview & Scrutiny Committee this morning, with a couple of changes of membership – welcoming Cllrs Corney and Mason, and recording our thanks to departing Cllrs Dew and Miscandlon, and our congratulations to the latter on being elected Chairman of Fenland District Council.
We've been asked by the Combined Authority Board to consider whether we wish to co-opt an Independent councillor to the Committee, who would not have voting rights, and would not count as a member of the committee for formal purposes. Between 2017 and 2019 the Committee did indeed have an Independent member from one of the Cambridgeshire councils, but in 2019 the Board said this would no longer be permitted. Independent councillors are not included for the purposes of calculating how many seats each party is given on this Committee, which has a distorting effect on the 'political balance' of representation overall.
My view, which I express in the meeting, is that inviting us to co-opt an Independent member with no vote, who will not even count among the minimum number of members to hold a meeting, is no more than a fig-leaf strategically placed to cover the distortion of not including them properly in the calculation to begin with. No-one on the Committee disagrees. We decide not to co-opt a member on these terms, and to ask the Combined Authority
Why was an Independent member allowed to sit on the Committee from 2017 to 2019?
Why was there a change to exclude Independent members in 2019?
What efforts has the Combined Authority been making to persuade Government to remove any legal barriers to including Independent councillors in the calculation of committee places?
We then agree that the Committee should appoint a Lead Member to shadow the work of the Combined Authority's Business Board – an increasingly important body in shaping Cambridgeshire and Peterborough's COVID recovery, and with considerable amounts of money to disburse to local businesses. We already have Lead Members from our Committee shadowing the Skills, Housing and Transport Committees, and feel that the Business Board deserves no less consideration. We decide to invite expressions of interest in taking on this task, and to make an appointment next month.
We move to consider the Committee's work programme for the year, and agree to add to the existing agenda items
invitations to the Chairs of the Skills, Housing and Transport Committees, and the relevant Directors, to come and brief us about their work
items on the A10 dualling and junctions project, the Ely Area (Rail) Capacity study, and digital communications
ongoing overview of the CAM metro scheme.
A number of projects have been closed, either because they have been completed or because they are no longer progressing, and we receive a short report on that.
Finally, with input from our Lead Members we consider the Combined Authority's forward plan, and note some of the items that will be of particular interest to the Committee, such as the CAM metro Cambourne to Cambridge route, and (intriguingly) a 'change of registered office' for the Combined Authority in early August. Will they have sealed the deal on their new premises in Ely by then?